Fr. Wade Menezes
Fr. Wade L. J. Menezes, CPM is a member of the Fathers of Mercy, a missionary preaching Religious Congregation based in Auburn, Kentucky. Ordained a priest during the Great Jubilee Year 2000, he received his Bachelor of Arts Degree in Catholic Thought from the Oratory of St. Philip Neri in Toronto, Canada and his dual Master of Arts and Master of Divinity Degrees in Theology from Holy Apostles Seminary in Cromwell, Connecticut. His secular college degrees are in journalism and communications.
Fr. Wade is currently the Assistant General and has served as Director of Vocations and Director of Seminarians for the Fathers of Mercy. Fr. Wade has also served as the Chaplain-in-Residence at the Shrine of the Most Blessed Sacrament of Our Lady of the Angels Monastery in Hanceville, Alabama. While at the Shrine, Fr. Wade was a daily Mass celebrant, homilist, and confessor; he also gave spiritual conferences on specialized points of Catholic Christian doctrine to the many pilgrims who visit the Shrine. Both the Monastery and Shrine are affiliated with EWTN, the Eternal Word Television Network.
Fr. Wade has been a contributing writer for The National Catholic Register, Our Sunday Visitor, Catholic Twin Circle, Catholic Faith and Family, The Wanderer, Pastoral Life, The Catholic Faith, Lay Witness and Christian Ranchman publications. Several homiletic series of his have appeared in Homiletic and Pastoral Review, an international journal for Priests. Fr. Wade has also been a guest on various episodes of EWTN's "Mother Angelica Live" and "Life on the Rock" programs during which he discussed such topics as the sanctification of marriage and family life, vocations, and the Sacred Liturgy. He has also hosted several televised series for EWTN, which have covered such topics as the necessity of the spiritual life, the Four Last Things, the Ten Commandments of Catholic Family Life, and the Gospel of Life vs. the Culture of Death. He is also the host of the EWTN segment series "The Crux of the Matter" and "The Wonders of His Mercy". His many theological and doctrinal presentations have been featured on EWTN Radio, Ave Maria Radio, Guadalupe Radio Network, Covenant Network Radio, Catholic Broadcasting Northwest, and Voice of Virtue International. He is the host of EWTN Global Catholic Radio's "Open Line Tuesday".
Fr. Wade Menezes's Recent Posts
The Seven Capital Sins and The Seven Capital Virtues and Their Extremes Click Here...
Fr. Wade Menezes's Recent Podcasts
Why should you prepare now for the Fatima Centennial? Hostess Johnnette Benkovic of EWTN Radio's "Wo...

Recently, Fr. Wade Menezes did a "Live" Radio Interview with Mater Dei Radio out of Portland, OR.  D...
Fr. Wade Menezes homily from July 21, 2015...
Listen to Fr. Wade's homily for the Fourth Sunday of Advent to learn the four reasons the Word Becam...
Fr. Wade explains how the Risen Christ makes us able to share in God's Life even during our earthly...
Fr. Wade Menezes considers how Jesus called the Apostles who were working, and he explains the Churc...
Fr. Wade talks about why we need knowledge of the faith to promote the faith, defend the faith, lead...
Fr. Wade explains how the readings for Sunday, September 29, 2013 call us to acknowledge the innate...
Fr. Wade Menezes explains the Two Great Commandments and applies them for the benefit of Catholic vo...
Fr. Wade talks about the power of the Holy Spirit - Preached in the Chapel of Divine Mercy May 27, 2...
Fr. Wade Menezes's Recent Products
Fr. Wade Menezes delivers thirteen powerful meditations focused on God's role as our Loving Father a...
In this retreat CD series, Fr. Wade Menezes speaks on the Seven Sacraments, and their categories: Sa...
Did you know that contemporary life and the culture of the day are often culprits seeking to destroy...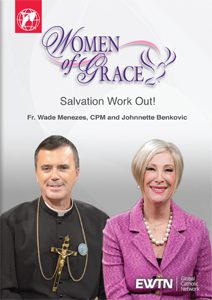 In this five-part Women of Grace series, Father Wade Menezes, CPM, offers you a work out plan - not...
Are you experiencing a trial, a setback, a suffering, a travail? If so, take heart! God has all of t...
One of the first things God did when He created Adam was to put him to work. Why? What purpose could...
Parish Mission seen on EWTN: 6 Conferences and 7 Homilies Conference Titles: Peace of Soul in...
Complete series as seen on EWTN; 2 DVDs...
Complete series as seen on EWTN; 2 DVDs...
Complete series as seen on EWTN; 4 DVDs...