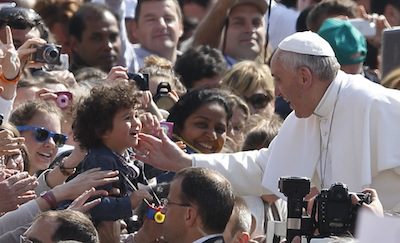 By: Rev. William Patrick Casey, C.P.M.
In his first homily as Supreme Pontiff, Pope Francis issued a call to all of the Catholic faithful, the People of God everywhere to help him rebuild the Church. He calls upon each one of us to focus and refocus on the things that are truly most important in life, specifically, the salvation of our immortal souls and where we are going to spend eternity. In other words, priority number one for all of us is precisely to get our priorities in life straight. We have been called by God and created by God to be saints!
One of the things Pope Francis is calling us to do is to be focused upon what we can call the fundamental facts of our existence. In this regard there are four main points:
Number 1 : We have been created for heaven! Union with God! Perfect, eternal happiness in God's heavenly kingdom, and our lives have got to be directed toward that end. Anything in your life that gets in the way of that objective (sin, that is) has got to go! God wants it out of your life! Remember that those who will not seek God's mercy in this life are going to face His justice in the life to come. What is the most powerful channel of Divine Mercy? It is the Sacrament of Penance: Confession for the forgiveness of sins. This is the way that God established for the forgiveness of sins and for us to do penance. It is the way that Christ established as the ordinary means for the forgiveness of mortal sins committed after baptism.
Number 2: God is all-powerful! Nothing is impossible with God! God is going to get you to heaven as long as you are faithful. This is the foundation of the virtue of hope.
Number 3: God has an infinite love for you! No matter who you are, no matter what your life has been like up to this point, God has a plan for your life that is going to end in eternal glory, if you will only cooperate with the graces He wants to give to you now! Ultimately, no one who truly trusts in God will be abandoned, disappointed, or put to shame.
Number 4: God is always faithful to his promises. In the Gospel, Our Lord Jesus Christ made 130 promises for those who believe and remain faithful! What does God promise above all else? Heaven! What will heaven be like? Father Benedict Groeschel, C.F.R. once put it like this: "Heaven is the place where every good thing you have ever known or needed and did not have, searched for and could not find, longed for and has eluded you, will be yours!"
My brothers and sisters, let us never allow our lives to be consumed by the mad, mindless pursuit of the triune god of the modern world: money, sex and power. Remember that only God can totally satisfy the desires of our hearts. Only God can give the true, lasting peace, joy and happiness that all of us are searching for. Material goods cannot do that. Money cannot do that. The stock market cannot do that. Human relationships cannot do that. Only God can do it! Life on earth is a journey- a pilgrimage through a passing world. We have come from God, and we are going back to God.
Archbishop Fulton J. Sheen used to say, "No matter which one of a thousand roads you choose to take in life, at the end of that road you are going to see one of two faces. Either you will see the beautiful face of Jesus Christ, or you will see the horrific face of Satan. And one or the other will say…Mine!"