"However, I consider my life worth nothing to me; my only aim is to finish the race and complete the task the Lord Jesus has given me—the task of testifying to the good news of God's grace" (Acts 20:24)
Parish Missions
Our parish missions are conducted at the invitation of the pastor or the bishop. The purpose of a mission is to assist the pastor in his ministry by our conferences, administration of the sacraments, and preaching the Word of God to the people of the parish. We seek to inflame all the members of the parish with the Infinite Love of Almighty God, and to call them to receive the Merciful Love of the Heart of our Lord and Savior, Jesus Christ.
Generally, five nights: Sunday through Thursday inclusive.
Mission services begin on Sunday evening, usually with a Eucharistic Holy Hour and preaching before the exposed Blessed Sacrament. The mission services continue each evening, usually with the Mission Conference in the context of either a Eucharistic Holy Hour or the Holy Sacrifice of the Mass (at the discretion of the pastor). If necessary, we can provide the mission talks twice each day – a morning or midday conference as well as the evening conference.
The Sacrament of Reconciliation (Confession) is made available before and after the evening Mission Conference.
Retreats
Our Community also conducts retreats for various groups of people: Mothers/Daughters; Women; Men; Married Couples; Families; Youth Groups; Legion of Mary groups; College students; Religious Communities, etc. These retreats may be one-day events, weekends, or other, longer, retreats. If you have a group that would like to arrange for a retreat, please contact us to inquire about availability of one of our missionaries. Please remember that we are often booked a year or more in advance, so short-term availability is often very limited!
Do you need a priest to promote perpetual Eucharistic Adoration and education?
Promote and educate about Perpetual Eucharistic Adoration.
Conduct a Eucharistic 40 Hours devotion.
Conduct a week-long Eucharistic mission or retreat.
To Schedule a Parish Mission or a Retreat, Please contact our Mission Director.
Our Other Ministries
In 2011, The Fathers of Mercy were asked by Bishop David Ricken, of the Diocese of Green Bay, to staff the Shrine of Our Lady of Good Help in New Franken, WI. The Shrine of Our Lady of Good Help is the only Vatican-approved Marian apparition site in North America.
Very Rev. John Broussard, C.P.M., serves as the Rector of the Shrine, with Fr. Thomas Reagan, C.P.M., serving as Chaplain.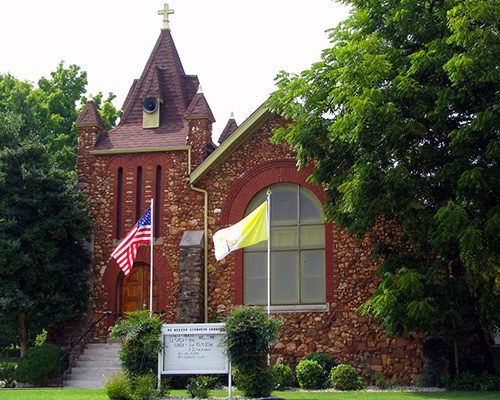 The secondary apostolate of the Fathers of Mercy is the staffing of "small, preferably rural parishes." Our Congregation currently staffs two rural parishes in the Archdiocese of Louisville.
St. Helen Church and Our Lady of the Caves have been under the pastoral care of our Community since 1952.
The pastor of St. Helen Church and Our Lady of Caves is Father Ben Cameron, CPM, and is assisted by Father Joel Rogers, CPM, and Fr. Peter Stryker, CPM.